Discover the joys of off-piste skiing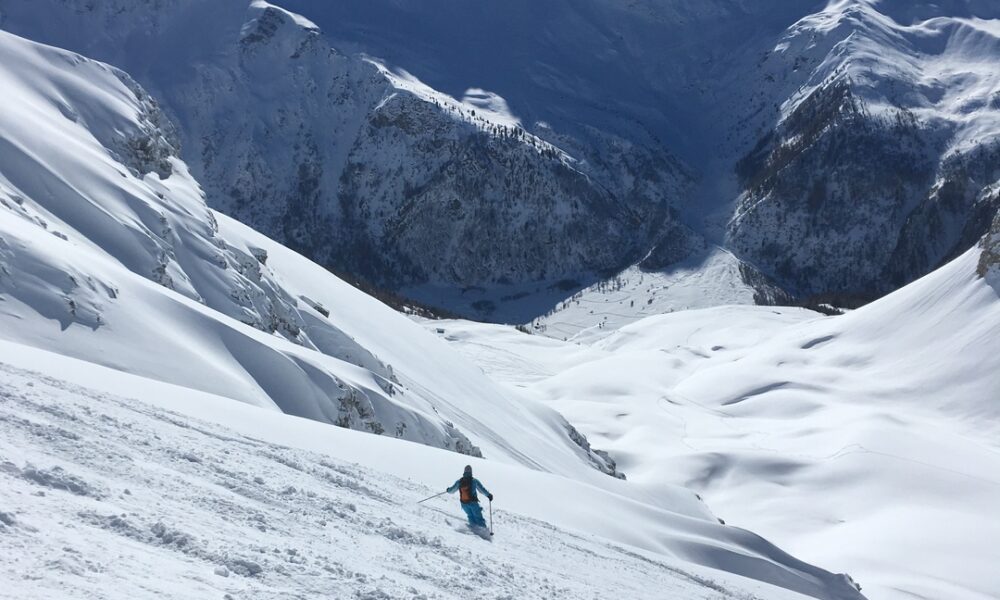 DISCOVER THE JOYS OF OFF-PISTE SKIING WITH ARC AVENTURES BY EVOLUTION 2
OFF-PISTE SKIING, even the name makes you think of gliding through the powder fresh snow in a secluded wintery wonderland.
A LITTLE HISTORY ON THE SUBJECT
For centuries, the local mountain dwellers have had to travel across country over snowy, difficult terrain. Everyone needs to hunt, get supplies, trade and travel.
Early on they used hand-made boards and a long stick to push themselves along on the snow. It was hard going and the invention of off-piste skiing!
Time passed and techniques evolved, especially with newcomers to the region wanting to try skiing. It is the beginning of skiing as a leisure activity for the masses: ski resorts, paid holidays, international tourism, skiing offered so many possibilities. "Winter sports" were born.
It was then that OFF-PISTE SKIING began to take on a new meaning of "real skiing". Skiers wanted to get out of these manmade, controlled, signposted areas, and go beyond… to discover the real mountain as it was before we got here.
To go off-piste you'll need to have a solid foundation in alpine skiing and know how to ski in all types of snow (powder, hard, icy) and over all types of terrain. The essential safety equipment is also a must – your avalanche escape kit.
So what is FREERIDE SKIING ? A more modern approach to off-piste, it is a discipline for skiers with different and more precise routes (often including tricks and jumps from rock faces etc.) It is more technically difficult but it remains, pure off-piste skiing.
This new craze for off-piste skiing has made it possible to develop skiing and snowboarding equipment to make it lighter, stronger and easier to use. With the better equipment, even more people can try skiing away from the slopes.
GOOD HABITS:
Whether you want to learn from scratch or improve your off-piste skiing technique, knowing your way round the terrain, the weather conditions and avalanche rescue kit is a must. It takes time to learn all this so we strongly advise starting your off-piste adventure with a trained mountain guide from a ski school.
ARC AVENTURES BY EVOLUTION 2, the ski school in Arc 1800 can offer the following:
– Freeride initiation courses for teenagers aged 15 to 17
– Adult off-piste ski courses
– All-Mountain snowboard courses
– Private off-piste skiing or snowboarding sessions from 1 to 6 people
Our instructors and mountain guides are here to show you the basics or help you improve your technique, in a safe learning environment. With their knowledge of the off-piste routes around the Les Arcs ski area, weather conditions, avalanche risks and snow quality, you couldn't be in better hands.
Our instructors will to take into account all the factors that go into a perfect off-piste outing and adapt to the technical level of the participants.
Les Arcs weather info and les Arcs webcam domain can be found on www.lesarcs.com
HAVING THE RIGHT EQUIPMENT.
The instructors and guides at Arc Aventures by Evolution 2, provide you with the essential safety equipment and show you how to use it. The pack includes a rucksack, airbag bag, shovel, probe and DVA (avalanche victim detectors).
It is important to practise using this equipment regularly. For example, you can train at the Avalanche Park in Les Arcs, a fun area that is open to everyone located at the top of the Transarc cablecars. To get up there, see the Les Arcs piste map. Our instructors can also advise you on the best types of skis and boots for off-piste skiing depending on your level and chosen route.
WHERE TO GO IN LES ARCS?
The off-piste possibilities in the Paradiski area (Les Arcs / Peisey-Vallandry and La Plagne) are immense and varied, whether it be epic high mountain routes, forest descents or sections of fresh powder between the slopes. Most of them can be directly accessed via the Les Arcs ski lifts.
Some ideas for itineraries to allow you to experience a real escape in the mountains:
Massif de l'Aiguille Rouge : Grand Col, Grandes Pentes, Genepi, Couloir en « S »…
Massif de l'Aiguille Grive : Carro Blanc, Couloir Nord, Pentes Nord-Ouest, Col d'Entreporte…
Massif du Mont-Pourri : Col des Roches, Mont-Pourri
Massif de Bellecôte : Petite face Nord, Couloir du Cairn…