Snowshoeing
6 Half-days package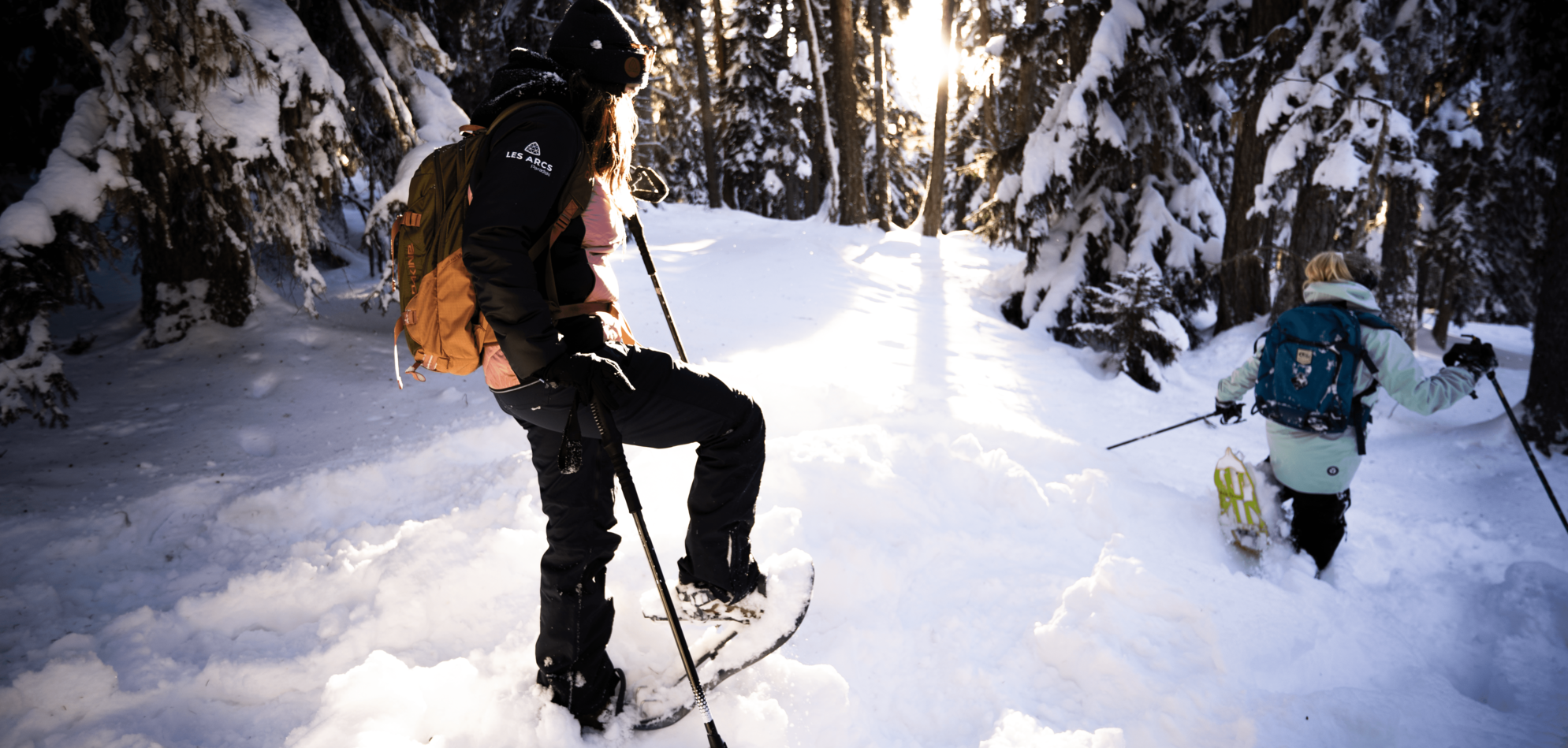 Snowshoeing 6 half-day package
Try all the walks we have to offer
All levels for adults and teenagers
Mornings and afternoons available
From Sunday to Friday
A pack of 6 half-day walks
Start off with the easy Sunday walk and then pick from the others on the weekly programme to discover all the different sides of the mountain. With one walk a day or more, you will experience the local flora and fauna as well as spectacular panoramic views.
Certain walks require the use of free shuttle buses or ski-lift in the resort.
Book this offer online and then pop in to see us when you arrive in Les Arcs to choose your walks from the weekly programme.
Weekly programme
The weekly programme may vary depending on the weather conditions and the number of bookings.
– Adults and teenagers
– Participants must have a good level of fitness
Price per person: 172€
The price includes: snowshoes and walking poles
The price does not include: insurance, ticket for ski-lift (6€/pers. ticket can be supplied at this reduced price by the mountain guide).
Walk with a trained mountain guide
Snowshoes and walking poles included in price
Tea provided mid-walk
Tickets for ski-lifts at a reduced price
Start and finish at our our office in Arc 1800
Arc Aventures by Evolution 2 office Arc 1800 Villards village, bottom of the slopes, Les Tournavelles building
Useful information
How do I book snowshoeing?
You can book online or over the phone before you arrive in the resort or when you arrive at our main office in Arc 1800 – Villards Village – Bottom of the piste – Tournavelles building.
Booking are subject to availability and your level of fitness.
Do I need to be fit to do snowshoeing?
Yes, you need to have a good level of health and fitness but you don't need to be especially sporty. You will be walking at high altitudes which makes breathing more difficult and makes the effort seem greater.
If you are not sure if you will be able to follow the group, the Sunday snowshoeing excursions are specifically for beginners and those who have just arrived in the resort and are not still adjusting to the altitude. Make the most of these trips to test your level and ask the guide to recommend which walks during the week will be best suited to you.
What should I wear for snowshoeing?
We recommend wearing the same warm, waterproof clothes as you would for skiing, with light layers that you can remove to avoid overheating. Don't forget gloves, bobble hats, sun glasses, sun cream, a little bottle of water and a small rucksack.
The shoes you wear are very important. They should be completely waterproof and provide ankle support if possible.
Hiking boots are ideal, or après-ski / snow boots. You can rent them from our partners: Intersport Les Villards.
Do I need a lift pass for snowshoeing?
Possibly! Certain walks do require the use of a ski lift. If you already have a lift pass, take it with you OR the guide can sell you a ticket just before the activity at a reduced price (6€/pers.).
A ski school
like no other
The Arc Aventures ski school in Arc 1800 is here to help you with anything you might need this winter, whether it be on the slopes or out in the mountain wilderness. We offer a wide range of different lessons and guided sessions in groups or individually. With our instructors you can learn to ski or snowboard, go off-piste and snowshoe around Les Arcs.
We have lessons that are adapted to the individual and work hard to help you achieve your sporting goals and make your winter holidays the best yet!
Design and organisation of customised professional events (business committees, team building sessions and professional seminars) in Les Arcs. Request an estimate.