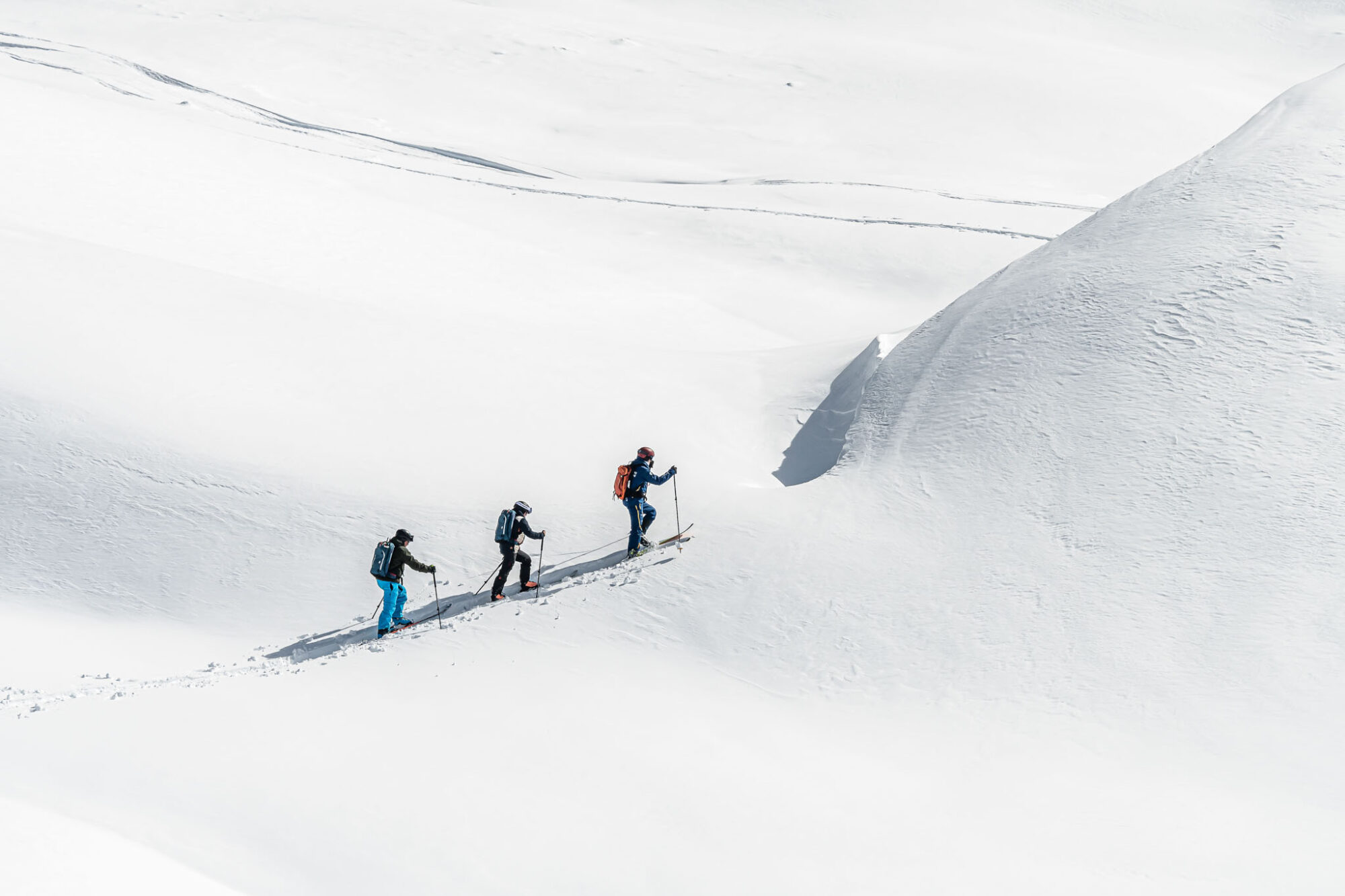 Ambiance and discovery !
Adults and teenagers from 14/15 ans
On Wednesdays
Ski level very good class 2
Equipment not provided
For beginners in ski touring
What could be more fun than trying a new activity! Enjoy the relaxed, friendly atmosphere as you learn as a group in the care of a trained instructor. Together you will go over all the specialised ski touring equipment – seal skins, ski touring boots and skis with hinged bindings. The instructor will show you how to use the equipment and help you improve your technique as you trek up the slopes. This initiation takes place in the evening after the slopes are closed so that you can experience the calm of the empty ski area and use head-torches to ski back down to the resort.
Weekly programme depends on the time of year, earliest start-time of 5:15pm.
Ski touring sessions last 2 hours total.
Prices winter 22/23
The lesson: 15€
Price includes: instruction
Price dose not include: equipment hire, insurance.
15% Discount when you show your 'Essentiel' or 'Premium' 6-day lift pass (must still be valid)
*Equipment hire – get lower prices when you rent your equipment at our partner store: Intersport in Les Villards Arc 1800
Learning and improving with adapted lessons
Get away from the busy slopes
Breathtaking landscapes
A great workout
Arc Aventures by Evolution 2 office Arc 1800 Villards village, bottom of the slopes, Les Tournavelles building
Useful information
Ski touring is a sport that uses specialised equipment and techniques to cover snowy terrain without having to use the usual public transport and ski lifts.
This more independent method gives access to wild and unspoiled off-piste areas, alternating between uphill and downhill skiing. Climb the mountain with 'seal-skins' fixed to the under-side of your skis for grip, light-weight boots and hinged bindings allowing you to lift your heel for a more natural movement.
Once at the top, you can enjoy the thrill of the descent through untouched snow down perfectly serene hills. Just peel off the seal-skins, tighten your shoes, lock-in your bindings and enjoy!
Do you need to be very sporty to try ski touring?
You need to be in good shape and be an upper-intermediate / advanced level skier (Class III: see our levels).
If you like skiing, the physical effort of hiking and want to discover superb landscapes, then ski touring is perfect for you!
You will be climbing at high altitudes so try to book your ski touring session two or three days after your arrival to allow your body to adapt. Letting your body get used to the different oxygen levels is recommended so that you can fully appreciate this activity.
We mainly organise outings for adults; teenagers can take part depending on their age and level but the instructor will need to agree.
What should I wear for ski touring?
As far as clothing is concerned, you can't go wrong with the 3-layer system (long-sleeved thermal top, a fleece or a down gilet and a light but warm ski jacket (Gore-Tex is always preferable).
The uphill climb is often intense and you will need to be able to shed layers to keep cool as you go up, then cover up again for the ride back down. Also don't forget to bring water, snacks, sun cream and sunglasses!
Arc Aventures by Evolution 2 provides the essential safety pack for each participant: an avalanche transceiver and a rucksack containing a shovel and a probe. You can add your personal belongings to the rucksack if necessary.
It is always a good idea to book your equipment in advance (touring skis, boots, poles and seal-skins) you can get a good deal when you go to our partner shop: Intersport Villards Village, Arc 1800.
Come and try ski touring !
We offer an evening taster session for curious skiers wishing to try their hand at ski touring.
The group session takes place every Wednesday evening from 5.30 p.m. to 7.30 p.m. (4 participants minimum to run).
You will climb around 200m up the slopes after the resort has closed then speed down again back to Arc 1800.
The instructor will show you how to use the specialised equipment: the seal-skins, hinged ski bindings and clip-in shoes.
*Special discount* If you have an 'Essential' or 'Premium' 6 day lift pass you get an extra -15% discount off this activity! More informations 
A ski school
like no other
Expert knowledge
of the mountains
The Arc Aventures ski school in Arc 1800 is here to help you with anything you might need this winter, whether it be on the slopes or out in the mountain wilderness. We offer a wide range of different lessons and guided sessions in groups or individually. With our instructors you can learn to ski or snowboard, go off-piste and snowshoe around Les Arcs.
We have lessons that are adapted to the individual and work hard to help you achieve your sporting goals and make your winter holidays the best yet!
Design and organisation of customised professional events (business committees, team building sessions and professional seminars) in Les Arcs. Request an estimate.