Hydrospeed swimming
Isère Plus

Bourg Saint Maurice to Aime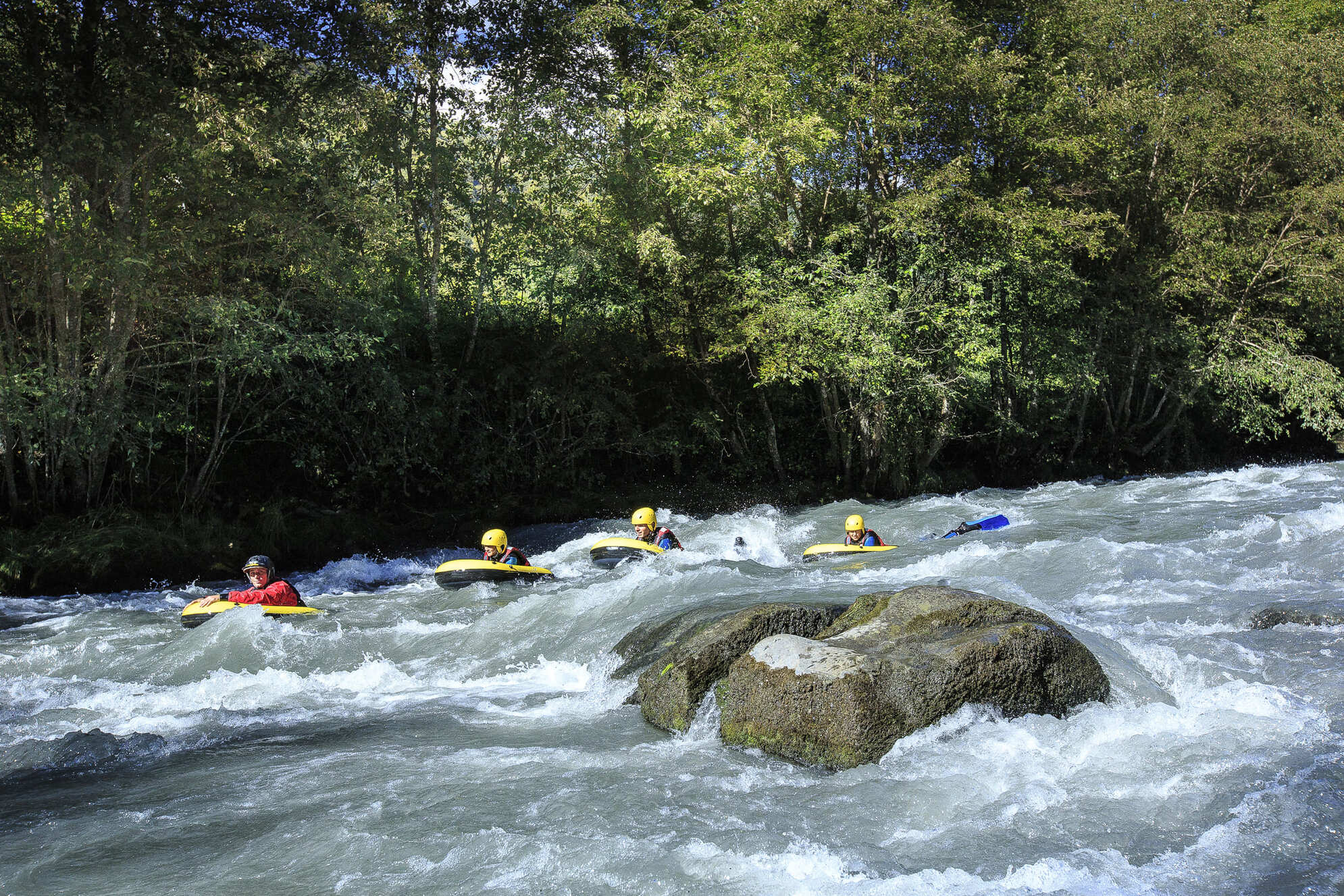 Hydrospeed swimming Isère Plus
Take on the rapids if you dare!
Available every day
Twice a day at 9:00 and 14:00
Advance level
Adults and teenagers from 16 years old
A trip down the Isère River
Hydrospeed swimming in the Isère river from Bourg St Maurice to Aime including the famous white-water rapids – making this activity very physically demanding and technically difficult. You will use your float and fins to fight the strong river currents.
The activity takes approx. 3h total, with and hour and a half in the water + getting equipment + getting instructions + changing at the end of the activity + driving back to the base.
All participants must:
-Have their own insurance
-Know how to swim at least 25m and fully submerge yourself
-Be at least 16 years old on or before the date of the activity (1.50m tall, 40kg). Parental consent required for under 18s.
-Have already completed the 'discovery' hydrospeed course
-Accept that the guide may decide, after the first part of the activity, that they are not able to continue into the rapids in which case they will return to the base.
Provided: Full neoprene wetsuit, fins, helmet, and life jacket.
You will need: a swimming costume, a towel and a bag for your belongings and clothes. Avoid bringing valuables.
Prices summer 2023
95€ per person
The price includes: a fully trained guide, all the required equipment transport back to Bourg St Maurice
The price does not include: any insurance or transport to or from the meeting point.
Our white-water base is on the banks of the Isère River for ease of access
Our river guides are highly trained and experienced
A detailed briefing is given before you start
All the necessary equipment is provided
For those using the Funicular train, we can come and pick you up at the Gare Funicular in Bourg St Maurice and drop you back after the activity.
Arc Aventures welcome cabin at the crossroads next to the Isère River. Arc Aventures Rafting
Useful information
What should I wear for hydro-speed swimming?
You should bring: a swimming costume, a towel and a bag that closes and is big enough for all your clothes, shoes and towel.
We will give you: Full neoprene wetsuits, neoprene socks, fins, helmets, life preservers.
I don't have a car in summer
Each activity has a specific time-slot and meeting point, these are given upon booking.
– If you are staying in Les Arcs and would like to participate in rafting or hydro-speed swimming you have two options:
Everyday, you can use the free shuttle buses to get to Arc 1600 and from there use the Funicular train to go down to Bourg St Maurice whereupon we will pick you up in our private bus that will take you to the white-water base. At the end of the activity we will drop you back at the Funicular train station in Bourg St Maurice for the return journey.
On Tuesdays and certain Wednesday morning, take our free bus directly from the Villards village in Arc 1800 down to the white-water base. At the end of the activity we will drop you back to the Funicular train station in Bourg St Maurice where you can get the Funicular back up to Les Arcs and use the free shuttle buses to arrive at your chosen destination within the resort.
Don't forget to tell us if you need any of these options when you book.
– Unfortunately it is not possible to participate in canyoning without a car as the meeting points are at least an hour's drive from Les Arcs and they are quite out of the way so there are no public transport options.
Multi-activity Hero Pass for Les Arcs
The partnership between Hero Les Arcs and Arc Aventures Evolution 2 includes discounts on the following activities:
– Isère Rafting (excluding private boats)
– Hydro-speed swimming
– Mont Blanc Treetop Adventure Course
Subject to conditions and availability.
15% DISCOUNT for participants with one of the following valid Hero passes in their name:
MultiPass 7 jours / Camp Junior 7 jours / Hero Extrême 7 jours / MultiPass Belambra Hôtel du Golf
Conditions: activities are subject to specific participation conditions and must be booked during the dates that the Hero pass is valid. Hero pass must be shown at the time of booking for the discount to be applied. This discount cannot be applied retroactively nor combined with other discounts.
Call us directly +33 (0)4 79 07 60 00, booking in advance is recommended and this discount cannot be applied to online bookings.
More information for Hero Les Arcs
I am staying at Odalys Edenarc Arc 1800 this summer
Arc Aventures by Evolution 2 has a partnership with Odalys Edenarc in Arc 1800 which benefits its customers during both the summer and winter seasons.
Depending on the type of rental you have with the residence, you may find one of our vouchers in your welcome pack. This will entitle you to 10% discount on selected activities when booked directly in our offices (just at the bottom of the Dahu cable cars). Don't forget to bring your voucher with you when you come to book!
Expert knowledge
of the region
Arc Aventures have been offering innovative outdoor sports in France since the 80s. In Les Arcs and Bourg St Maurice, they organise a range of activities that run locally during the summer and winter. The Arc Aventures team is waiting to welcome you at their offices in Arc 1800, located in the Tournavelles building (in the Villards village) and at the white-water base right on the banks of the Isère river in Bourg St Maurice.
With many activities to choose from, this is the moment explore the white-water rapids of the Isère river, the skies over Les Arcs and Bourg St Maurice and the forest in Arc 1800. We have everything you need for an amazing holiday: rafting, hydrospeed swimming, canyoning, a tree top adventure course and paragliding. All our activities are organised by a team of highly qualified professionals here to make sure you have a great holiday.
If you're ready to make the most of your trip to the mountains this summer, the adventure starts here.
Design and organisation of customised professional events (business committees, team building sessions and professional seminars) in Les Arcs.