Hydrospeed swimming
Isère Extra

Bourg Saint Maurice to Centron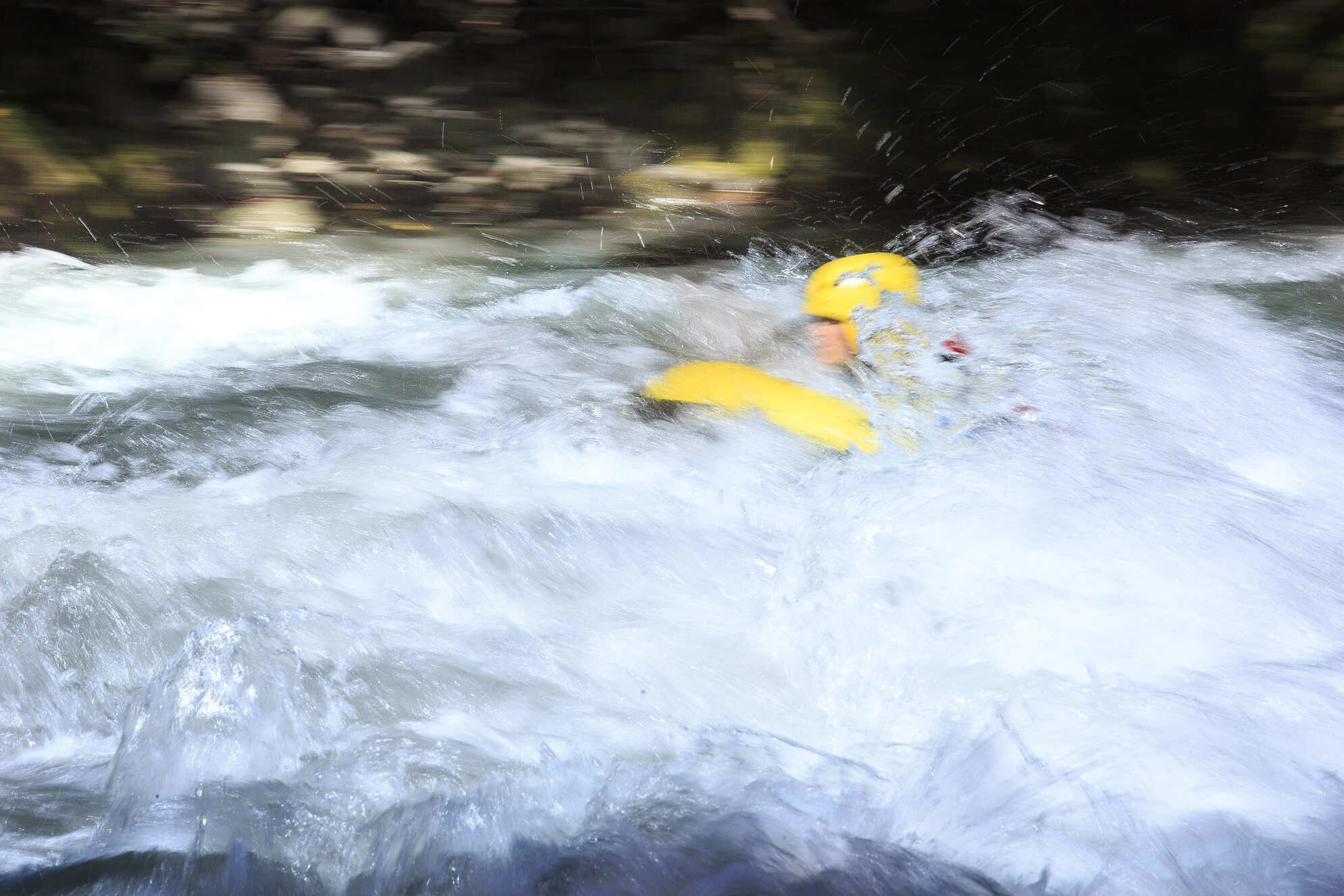 Hydrospeed swimming Isère Extra
Not for the faint of heart!
Available every day
At 14:00
Advance level
Adults and teenagers from 16 years old
A trip down the Isère River
Hydrospeed swimming in the Isère river from Bourg St Maurice to Centron including two sets of rapids – this activity very physically demanding and technically difficult, it is only available for those who have already completed the 'discovery' and 'plus' options. You will use your float and fins to fight the strong river currents and hang on as best you can through the rapids. You'll be battle the river for around two hours, depending on water levels.
The activity takes approx. 3h30 total, with at least 2 hours in the water + getting equipment + getting instructions + changing at the end of the activity + driving back to the base.
All participants must:
-Have their own insurance
-Know how to swim at least 25m and fully submerge yourself
-Be at least 16 years old on or before the date of the activity (1.50m tall, 40kg). Parental consent required for under 18s.
-Have already completed the 'discovery' hydrospeed course
-Accept that the guide may decide, after the first part of the activity, that they are not able to continue into the rapids in which case they will return to the base.
Provided: Full neoprene wetsuit, fins, helmet, and life jacket.
You will need: a swimming costume, a towel and a bag for your belongings and clothes. Avoid bringing valuables.
Prices summer 2023
110€ per person
The price includes: a fully trained guide, all the required equipment transport back to Bourg St Maurice
The price does not include: any insurance or transport to or from the meeting point.
Our white-water base is on the banks of the Isère River for ease of access
Our river guides are highly trained and experienced
A detailed briefing is given before you start
All the necessary equipment is provided
For those using the Funicular train, we can come and pick you up at the Gare Funicular in Bourg St Maurice and drop you back after the activity.
Arc Aventures welcome cabin at the crossroads next to the Isère River. Arc Aventures Rafting
Useful information
Whether you are coming in summer or winter, or you would like to make a booking or simply ask for some further information, don't hesitate to call us as soon as possible. This is especially important if you are coming during the French school holidays in the winter season or anytime in August.
We will be happy to give you all the information you need and take your booking (if bookings for that activity are already open).
Our sales service team are available most of the year with short periods where the office is closed in the spring and in September.
What are the weather conditions for summer activities?
All our activities take place in the great outdoors. Most of them can take place whatever the weather but there are certain exceptions. It is Arc Aventures by Evolution 2 directly, or our team (made up of trained guides and qualified pilots) who will decide if it is safe to go ahead with an activity or not.
See our terms and conditions for more details.
Multi-activity Hero Pass for Les Arcs
The partnership between Hero Les Arcs and Arc Aventures Evolution 2 includes discounts on the following activities:
– Isère Rafting (excluding private boats)
– Hydro-speed swimming
– Mont Blanc Treetop Adventure Course
Subject to conditions and availability.
15% DISCOUNT for participants with one of the following valid Hero passes in their name:
MultiPass 7 jours / Camp Junior 7 jours / Hero Extrême 7 jours / MultiPass Belambra Hôtel du Golf
Conditions: activities are subject to specific participation conditions and must be booked during the dates that the Hero pass is valid. Hero pass must be shown at the time of booking for the discount to be applied. This discount cannot be applied retroactively nor combined with other discounts.
Call us directly +33 (0)4 79 07 60 00, booking in advance is recommended and this discount cannot be applied to online bookings.
More information for Hero Les Arcs
I am staying at Odalys Edenarc Arc 1800 this summer
Arc Aventures by Evolution 2 has a partnership with Odalys Edenarc in Arc 1800 which benefits its customers during both the summer and winter seasons.
Depending on the type of rental you have with the residence, you may find one of our vouchers in your welcome pack. This will entitle you to 10% discount on selected activities when booked directly in our offices (just at the bottom of the Dahu cable cars). Don't forget to bring your voucher with you when you come to book!
Expert knowledge
of the region
Arc Aventures have been offering innovative outdoor sports in France since the 80s. In Les Arcs and Bourg St Maurice, they organise a range of activities that run locally during the summer and winter. The Arc Aventures team is waiting to welcome you at their offices in Arc 1800, located in the Tournavelles building (in the Villards village) and at the white-water base right on the banks of the Isère river in Bourg St Maurice.
With many activities to choose from, this is the moment explore the white-water rapids of the Isère river, the skies over Les Arcs and Bourg St Maurice and the forest in Arc 1800. We have everything you need for an amazing holiday: rafting, hydrospeed swimming, canyoning, a tree top adventure course and paragliding. All our activities are organised by a team of highly qualified professionals here to make sure you have a great holiday.
If you're ready to make the most of your trip to the mountains this summer, the adventure starts here.
Design and organisation of customised professional events (business committees, team building sessions and professional seminars) in Les Arcs.