Group Ski Lessons
Adult 3-day
3 Mornings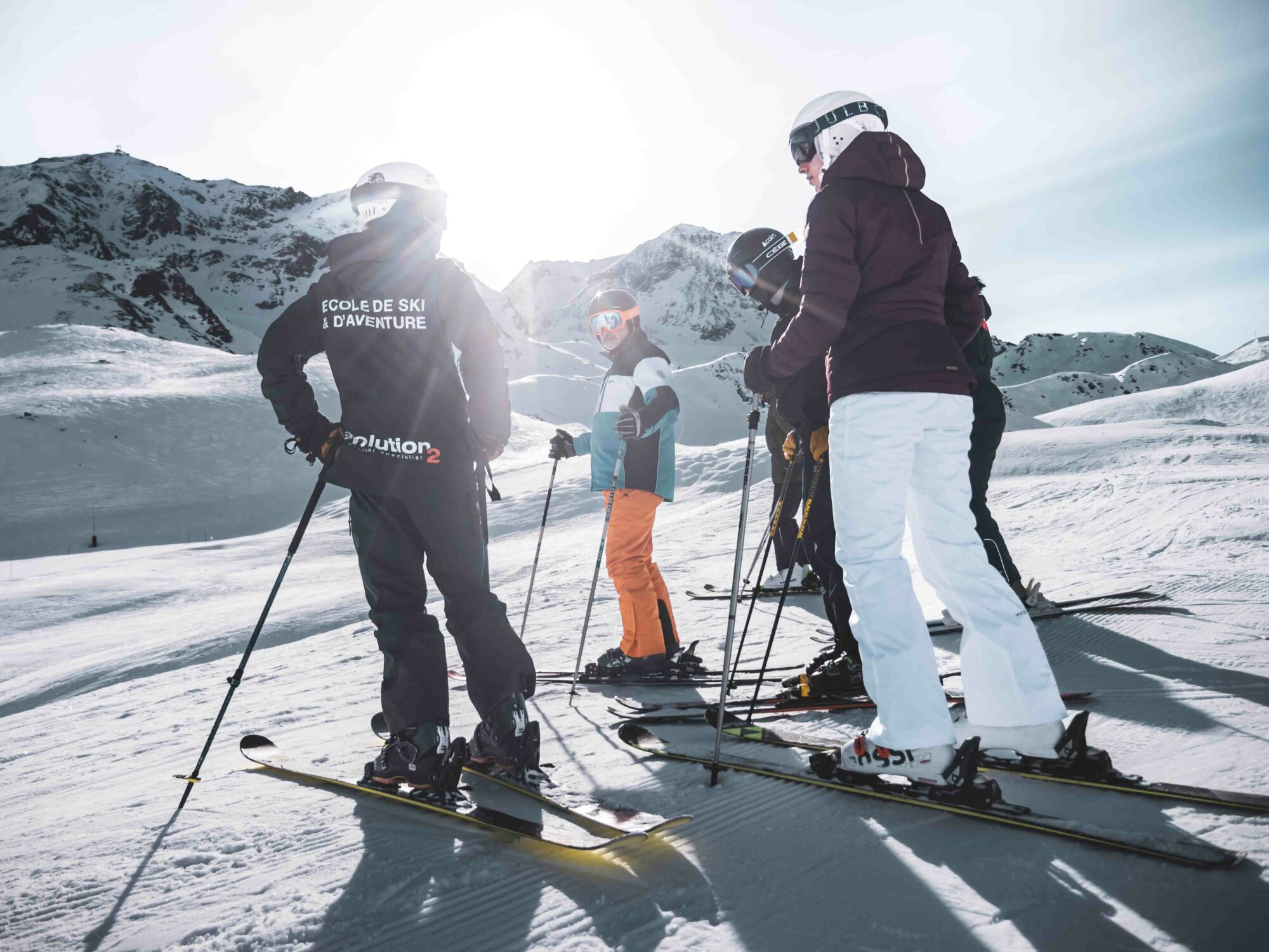 Groupe Ski Lessons Adult 3-day groups
Quick but effective!
8/9 people per lesson
Adults and children from 14/15 years old
From Sundays to Tuesdays – 9:30 to 12:00
Beginner and Class 1 level
Get your week off to a flying start with this quick 3-day course.
Learn the basics or get a refresher so that you hit the slopes full of confidence and ready to go.
Our instructors are ready to teach you the best techniques to get the most out of your skiing holiday. The rest is up to you!
– 6 Mornings : 170€
Price include : instruction, test and medal.
Price do not include: equipment hire, lift passes or insurance.
Option to join the 6-day group if you wish to continue
Small groups
Tailored sessions
Arc Aventures by Evolution 2 Meeting point: At the bottom of Transarc cable cars in Arc 1800
Useful information
What level of skiing should I book for an adult?
You should book adults into the level they want to pass which means one level above the one they passed most recently.
Only adults who have NEVER skied before should go into the beginner group.
If the level you want is full, call us +33 (0)4 79 07 60 02! DON'T just book one level above or below – we have strict groups based on skill level and your lessons will most likely just be cancelled and refunded.
See adults ski levels.
What equipment should I hire?
We recommend going for equipment that is easy to ski or snowboard with (not too heavy or too technical and the right height for the participant). For example, there is no need to rent flashy off-piste skis if you are an intermediate skier in lessons all week. Try multiple brands of ski shoe to find the right fit as they all vary in rigidity, width and comfort. The staff in the rental shop is there to help you make the right choice, be sure to let them know your level and the kind of lessons you have booked.
Where should I rent my skis?
Ski Snowboard Hire: Our customers will receive a promo code in their receipt upon booking which entitles them to discounts at our partner store Intersport in the Galerie des Villards Arc 1800 which they can use when booking their equipment hire online.
For ski touring equipment you should contact Intersport directly.
Snowshoes: Our partner Intersport are the only shop in Les Arcs who rent hiking boots adapted for snowshoeing. They do not take online bookings for this so you'll need to go directly to the shop. PLEASE NOTE: the snowshoes themselves and the walking poles are included in the price of our snowshoeing excursions so you don't need to rent them.
Do I need a lift pass? If so, which one?
Probably! In most cases you will need one as there are no free ski slopes in Les Arcs and our lessons don't include a ski pass.
The basic pass you will need is the 'Classic' lift pass which covers all the slopes in Les Arcs and Peisey-Vallandry. Lift passes are free for under 5s, you can order them online or at the lift pass office and will need to present proof of age for the child to pick them up. Click here for more information
Children skiing: Children booked into the Panda, Yetison or Petit Yeti groups will not need a lift pass on their first day. The instructor will let you know when they will need one.
Adults who have never skied: Ask our sales team for details
Snowboarders (whatever the level): Always need the 'Classic' pass.
A ski school
like no other
The Arc Aventures ski school in Arc 1800 is here to help you with anything you might need this winter, whether it be on the slopes or out in the mountain wilderness. We offer a wide range of different lessons and guided sessions in groups or individually. With our instructors you can learn to ski or snowboard, go off-piste and snowshoe around Les Arcs.
We have lessons that are adapted to the individual and work hard to help you achieve your sporting goals and make your winter holidays the best yet!
Design and organisation of customised professional events (business committees, team building sessions and professional seminars) in Les Arcs. Request an estimate.