Group Ski Lessons
for 3-year-olds
Mornings or afternoons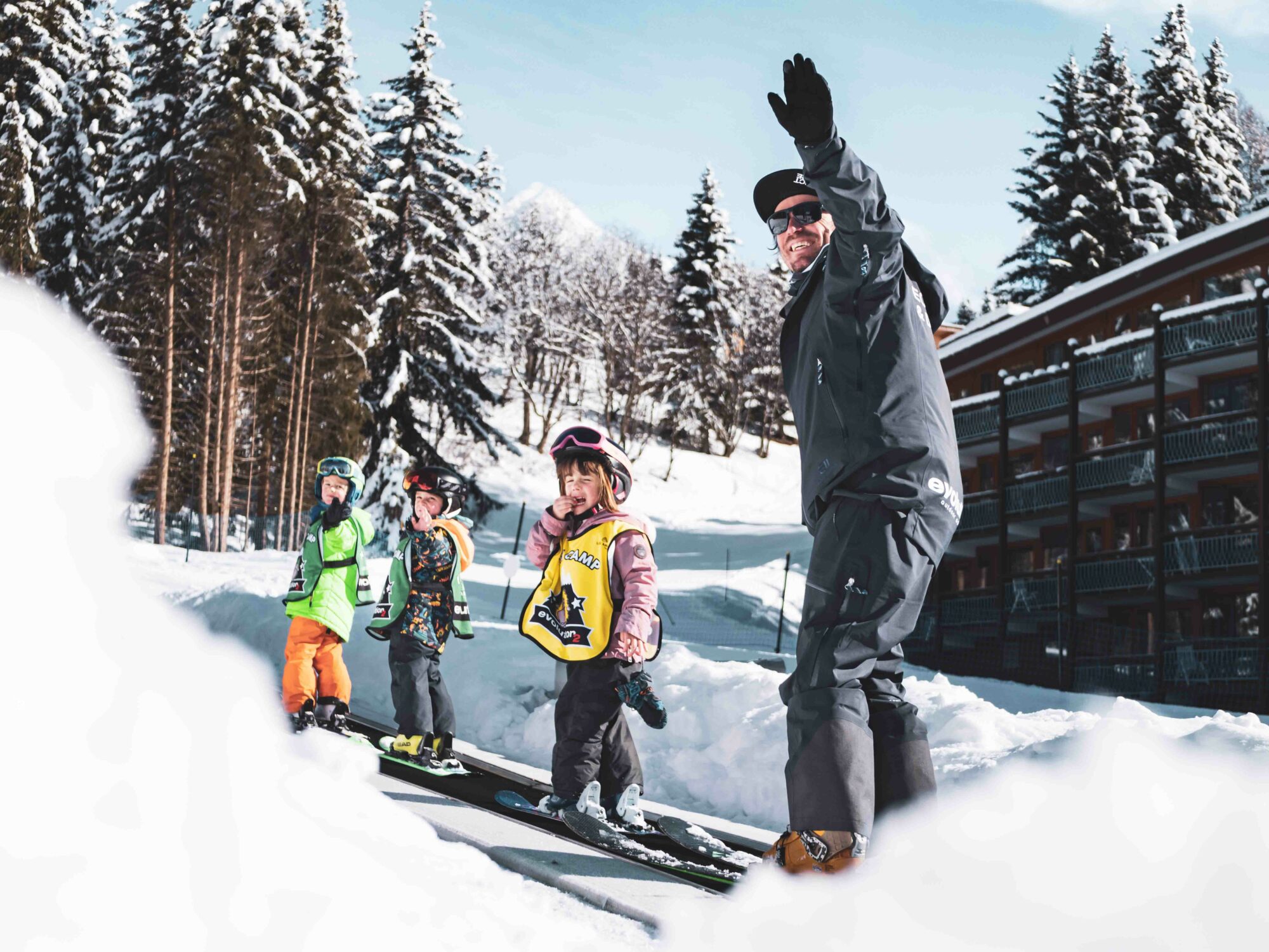 Group Ski Lessons for 3-year-olds
Give them the best start possible on skis!
6 Mornings all season
6 Afternoons only available during the French school holidays periods
From Sunday to Friday
Panda group/6 children per instructor
In the Bonhomme de Neige group, your little one will put skis on for the first time and begin skiing around the Arc Aventures by Evolution 2 Jardin d'enfants. It is a safe, enclosed area with all the equipment needed for fun lessons adapted to their age.
Time-slots: 9:30 to 12:00 all winter long OR 14:45 to 17:15 depending on the time of year.
– 6 Morning : 210€ non-school holiday periods / 230€ school holiday periods
– 6 Afternoons : 210€ school holiday periods only.
Prices include : instruction, snack-time included for children in the jardin d'enfants, test and medal
Prices do not include: equipment hire, lift passes or ski & cancellation insurance.
Groups of 6 children maximum
Snack-time included
Magic carpet + rope-pull
Snow games
Welcome chalet equipped with bathroom and drinking water
End of week test and medal included
Jardin d'enfants Arc Aventures by Evolution 2 Charmettoger village in Arc 1800
Useful information
Is my child too young for ski school?
Children's group ski lessons: We accept children from 3 years old (having already had their 3rd birthday on or before the 1st day of lessons) You will be asked for proof of age when booking. The groups are set at 6 children maximum and are adapted for their age.
Snowboarding group lessons: 10 years old minimum. The groups are made up of adults and children but decided depending on skill-level.
Snowboarding private lessons: Children can start as soon as they have a board and boots right for their size and weight.
What should my child wear?
Helmets are compulsory
Make sure your children are equipped with everything they need for good and bad weather: warm water-resistant ski jacket and trousers, thermal underclothes, long socks, water-resistant mittens or gloves, sunglasses or goggles, snoods, suncream and tissues in their pocket.
Does my child need a snack?
We give the children a snack during all lessons that take place in the Jardin d'enfants (please warn us of any allergies). For all children out on the slopes, you are welcome to slip one in the pocket of their ski jackets for them to eat during the lesson but warn them against littering!
Yes! Medals are free and included in children's group lessons and snowboard group lessons. They are given out at the end of the week.
A ski school
like no other
The Arc Aventures ski school in Arc 1800 is here to help you with anything you might need this winter, whether it be on the slopes or out in the mountain wilderness. We offer a wide range of different lessons and guided sessions in groups or individually. With our instructors you can learn to ski or snowboard, go off-piste and snowshoe around Les Arcs.
We have lessons that are adapted to the individual and work hard to help you achieve your sporting goals and make your winter holidays the best yet!
Design and organisation of customised professional events (business committees, team building sessions and professional seminars) in Les Arcs. Request an estimate.