Children's group Ski Lessons
4 to 14 years old
Mornings or Afternoons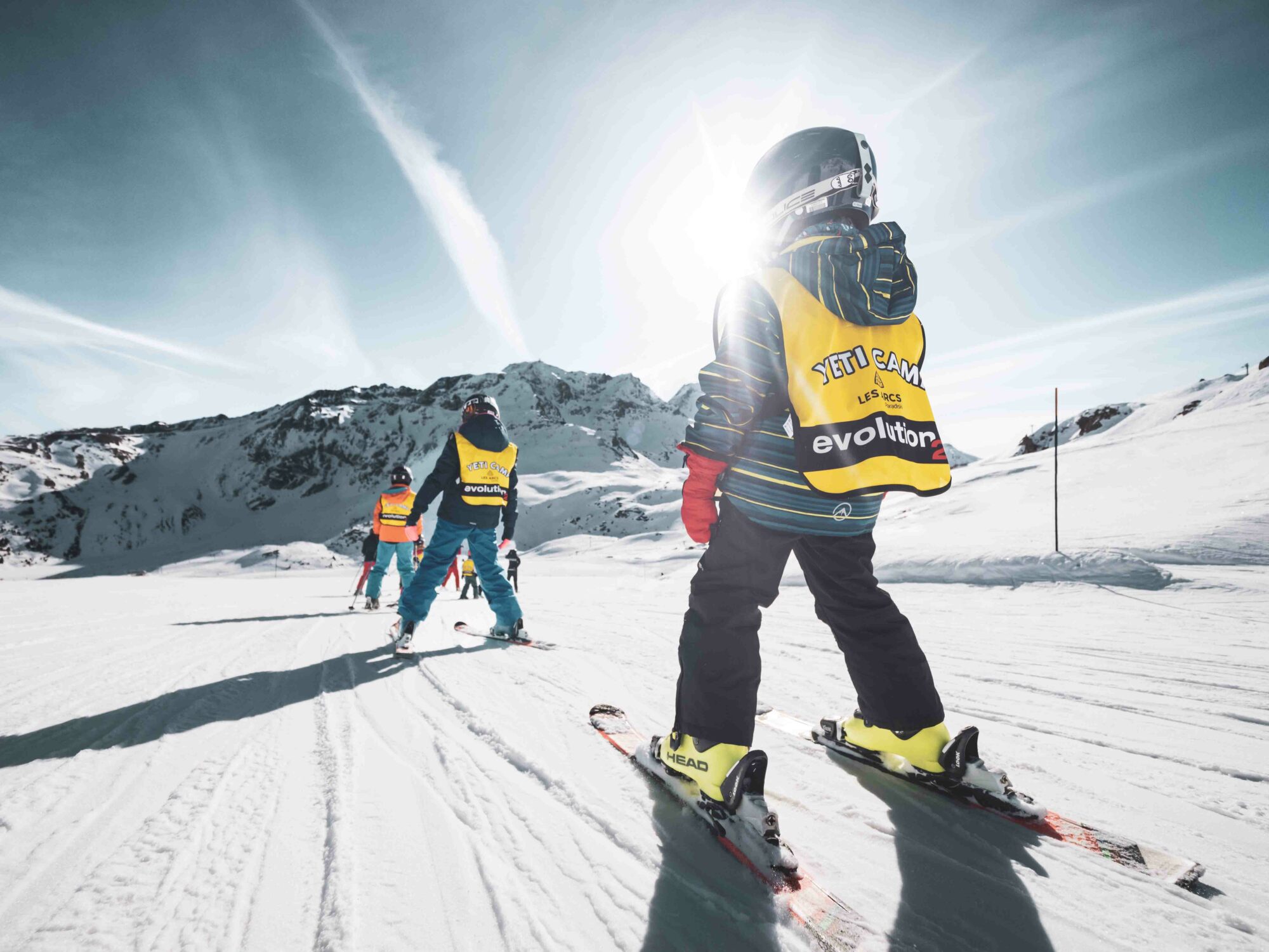 Children's group Ski lessons 4 to 14 years old
Skiing together is the best!
8/9 person per group
6 mornings or 6 afternoons
From Sunday to Friday
From Yetison level up to Junior Academy
Group ski lessons are a wonderful opportunity to learn, improve, have fun and make friends. Whatever the ski level, our trained instructors provide tailor-made learning over a week of lessons to show maximum improvement. Whether in the jardin d'enfants or out on the slopes, we do our best to ensure the children have a great time while they learn in a safe environment.
Time-slots  9:30 to 12:00 all season / during French school holidays 14:45 – 17:15 (in December 14:15 – 16:45).
– 6 Mornings : 210€ non-school holiday periods / 230€ school holiday periods
– 6 Afternoons : 210€ school holiday periods only.
Prices include : instruction, snack-time included for children in the jardin d'enfants, test and medal
Prices do not include: equipment hire, lift passes or insurance.
Children sorted by level
Personalised learning
Teaching appropriate learning environments
A fun atmosphere
Snack-time included for children in the jardin d'enfants
End of week test and medal included
– Yeti 1 level upwards: At the bottom of Transarc cable cars in Arc 1800
– All levels up to Petit Yeti: Jardin d'enfants Arc Aventures by Evolution 2 Charmettoger village in Arc 1800
Useful information
What level of skiing should I book for my child?
You should book children into the level they want to pass which means one level above the one they passed most recently.
You should book three-year-olds who have never skied directly into the Panda group and children from 4 years old who have never skied should start in Yetison whatever their age.
If the level you want is full, call us +33 (0)4 79 07 60 02! DON'T just book one level above or below – we have strict groups based on skill level and your lessons will most likely just be cancelled and refunded.
See children ski levels and medals.
Yes! Medals are free and included in children's group lessons and snowboard group lessons. They are given out at the end of the week.
What should my child wear?
Helmets are compulsory
Make sure your children are equipped with everything they need for good and bad weather: warm water-resistant ski jacket and trousers, thermal underclothes, long socks, water-resistant mittens or gloves, sunglasses or goggles, snoods, suncream and tissues in their pocket.
I am staying at Odalys Edenarc Arc 1800 in winter
Arc Aventures by Evolution 2 has a partnership with Odalys Edenarc in Arc 1800 which benefits its customers during both the summer and winter seasons.
Arc Aventures by Evolution 2 ski school offers pick up services and discounts depending on the dates and type of lessons. Call the offices to find out if these are applicable during your stay as they are not available online. + More information
A ski school
like no other
The Arc Aventures ski school in Arc 1800 is here to help you with anything you might need this winter, whether it be on the slopes or out in the mountain wilderness. We offer a wide range of different lessons and guided sessions in groups or individually. With our instructors you can learn to ski or snowboard, go off-piste and snowshoe around Les Arcs.
We have lessons that are adapted to the individual and work hard to help you achieve your sporting goals and make your winter holidays the best yet!
Design and organisation of customised professional events (business committees, team building sessions and professional seminars) in Les Arcs. Request an estimate.