Canyoning Pussy
Level 2

Pussy village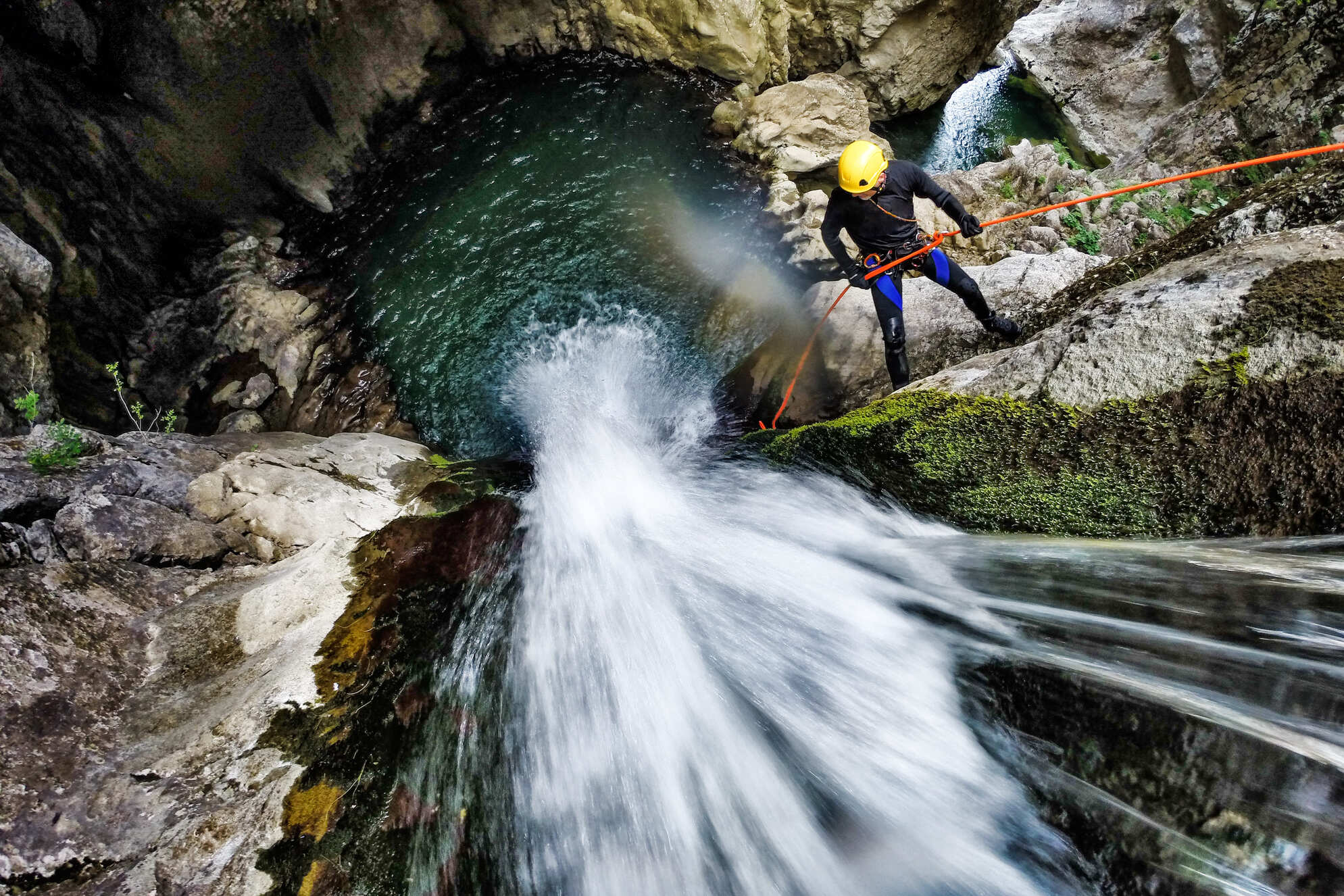 Abseiling, more abseiling and then some more abseiling!
Available everyday
9:30am start
Adults and children from 12 years old
The Canyon de Pussy offers a more technical experience in a beautiful setting of granite rock-faces and lush vegetation. Participants will abseil down rocks, down waterfalls, over basins and they will also do some swimming.
It takes around two hours from start to finish and you get out of the canyon with a via ferrata – type ladder.
The canyon is in the Village de Pussy (73) which is on the road of the Col de la Madeleine. You will need to get to the canyon with your own car (around 55 minutes to an hour from Bourg St Maurice).
Find out more
All participants must:
-Have their own insurance
-Know how to swim at least 25m and fully submerge yourself
-Not have any fear of heights or vertigo
-Be at least 12 years old and a minimum of 35kg (with an adult participant) or 14 years old (without an adult).
Provided: full neoprene wetsuit, vest and socks, helmet and harness.
You will need: swimming costume, towel, walking shoes or trainers with soles that grip well and provide ankle support.
Prices summer 2023
69€ per person
The price includes: a fully trained guide, all the required equipment
The price does not include: any insurance or transport to or from the meeting point.
Highly trained and experienced mountain guide
6 people by group
Alpine theme.
Useful information
What should I wear for canyoning?
You should bring: a swimming costume, a towel and trainers or walking shoes that have good grip and ideally provide some ankle support (no beach shoes or flat trainers e.g. Converses)
We provide: full wetsuits, neoprene socks (to go inside your trainers), helmets and harnesses.
Please note: your clothes and belongings will stay in your car, avoid bringing valuables.
I have vertigo or a fear of heights, which activities can I do?
You can do: rafting, hydro-speed swimming and paragliding (depending on the severity of the vertigo).
You should avoid: the tree-top adventure course and canyoning (due to waterfall jumps and abseiling).
I don't have a car in summer
Each activity has a specific time-slot and meeting point, these are given upon booking.
– If you are staying in Les Arcs and would like to participate in rafting or hydro-speed swimming you have two options:
Everyday, you can use the free shuttle buses to get to Arc 1600 and from there use the Funicular train to go down to Bourg St Maurice whereupon we will pick you up in our private bus that will take you to the white-water base. At the end of the activity we will drop you back at the Funicular train station in Bourg St Maurice for the return journey.
On Tuesdays and certain Wednesday morning, take our free bus directly from the Villards village in Arc 1800 down to the white-water base. At the end of the activity we will drop you back to the Funicular train station in Bourg St Maurice where you can get the Funicular back up to Les Arcs and use the free shuttle buses to arrive at your chosen destination within the resort.
Don't forget to tell us if you need any of these options when you book.
– Unfortunately it is not possible to participate in canyoning without a car as the meeting points are at least an hour's drive from Les Arcs and they are quite out of the way so there are no public transport options.
Insurance for summer activities
All participants must have their own insurance in case of any accidents or injuries and may wish to get cancellation insurance as an extra option. We recommend the online insurance: Impact Multi Sports.
For paragliding courses you must have a FFVL licence and a medical certificate which is not more than 3 months old.
See more details in our T&Cs
Expert knowledge
of the region
Arc Aventures have been offering innovative outdoor sports in France since the 80s. In Les Arcs and Bourg St Maurice, they organise a range of activities that run locally during the summer and winter. The Arc Aventures team is waiting to welcome you at their offices in Arc 1800, located in the Tournavelles building (in the Villards village) and at the white-water base right on the banks of the Isère river in Bourg St Maurice.
With many activities to choose from, this is the moment explore the white-water rapids of the Isère river, the skies over Les Arcs and Bourg St Maurice and the forest in Arc 1800. We have everything you need for an amazing holiday: rafting, hydrospeed swimming, canyoning, a tree top adventure course and paragliding. All our activities are organised by a team of highly qualified professionals here to make sure you have a great holiday.
If you're ready to make the most of your trip to the mountains this summer, the adventure starts here.
Design and organisation of customised professional events (business committees, team building sessions and professional seminars) in Les Arcs. Request an estimate.