Canyonning Eau-Rousse
Level 1


La Léchère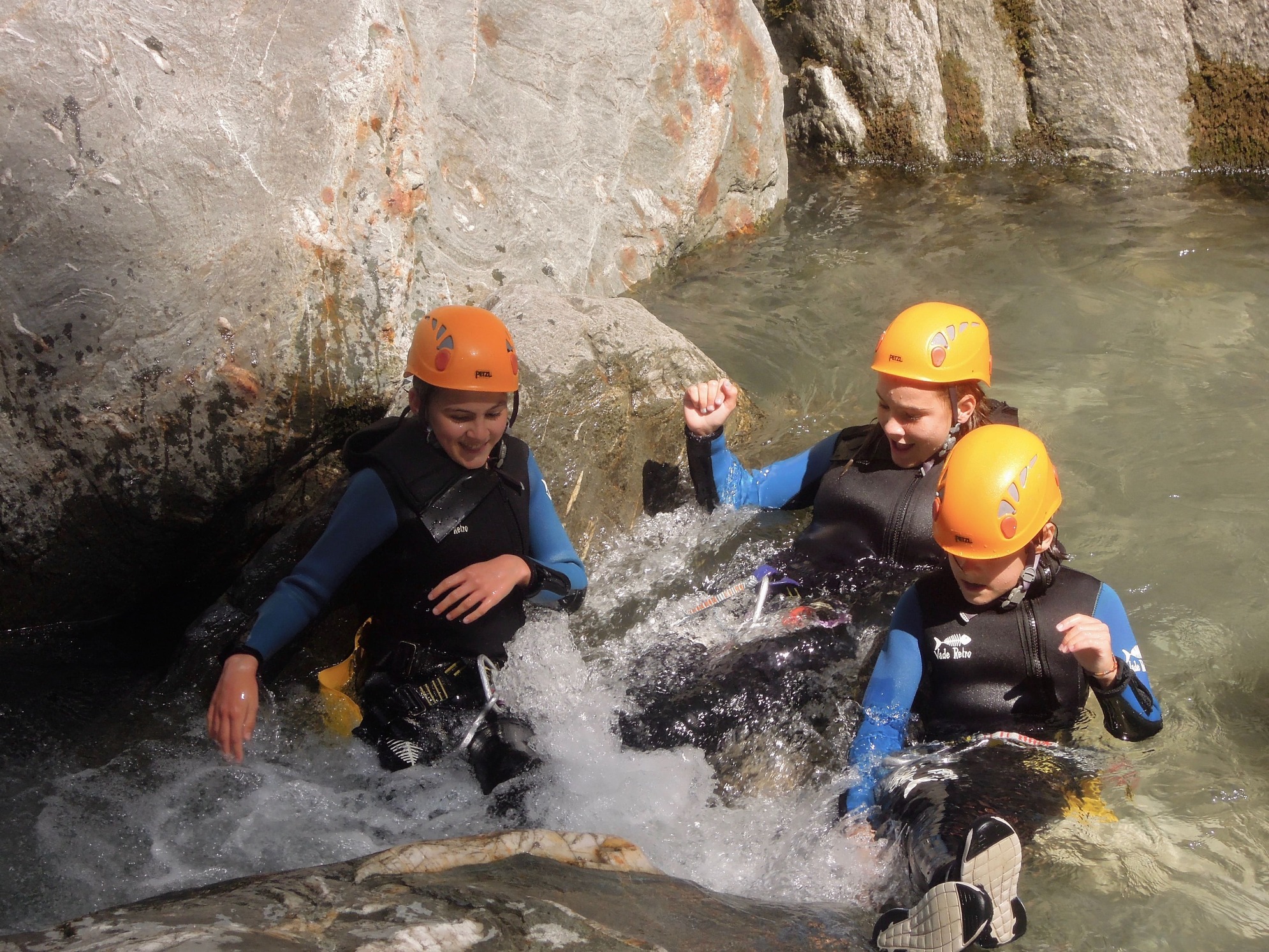 Near the village of La Léchère
Slide, jump and swim your way through…
Available everyday
9:30am start OR 13:30 start
Adults and children from 10 years old
This canyon is perfect for beginners but also for those who have already done tried the activity. Adults and children will have a enjoy in this fun, diverse experience.
What makes this canyon great is that it includes so many different techniques: walking in along the riverbed, swimming in pools, 2-6 metre jumps, abseiling down waterfalls and sliding on natural flumes in the rock.
It takes about 1 and a half hours from start to finish.
The canyon is near La Léchere (73), the meeting point with the guide a little before. You will need to use your own car to get there, it is around 45 minutes drive from Bourg St Maurice.
Find out more.
All participants must:
-Have their own insurance
-Know how to swim at least 25m and fully submerge yourself
-Not have any fear of heights or vertigo
-Be at least 10 years old and a minimum of 30kg (with an adult participant) or 14 years old (without an adult). We can occasionally accept lighter or younger children depending on their size and age.
Provided: full neoprene wetsuit, vest and socks, helmet and harness.
You will need: swimming costume, towel, walking shoes or trainers with soles that grip well and provide ankle support.
64€ per person
The price includes: a fully trained guide, all the required equipment
The price does not include: any insurance or transport to or from the meeting point.
Highly trained and experienced mountain guides
Beautiful canyon landscape
Attractive and varied canyon
Meeting point in the car park to the left of Exit 37 on the expressway from Moutiers to Albertville
Useful information
During this activity you will follow the path of a river flowing through the center of a canyon. You will use a range of techniques: swimming, walking in the water, jumping from waterfalls, sliding on natural flumes in the rock and abseiling down rock-faces. Each canyon is different in technique and difficulty.
What should I wear for canyoning?
You should bring: a swimming costume, a towel and trainers or walking shoes that have good grip and ideally provide some ankle support (no beach shoes or flat trainers e.g. Converses)
We provide: full wetsuits, neoprene socks (to go inside your trainers), helmets and harnesses.
Please note: your clothes and belongings will stay in your car, avoid bringing valuables.
What are the weather conditions for summer activities?
All our activities take place in the great outdoors. Most of them can take place whatever the weather but there are certain exceptions. It is Arc Aventures by Evolution 2 directly, or our team (made up of trained guides and qualified pilots) who will decide if it is safe to go ahead with an activity or not.
See our terms and conditions for more details.
Insurance for summer activities
All participants must have their own insurance in case of any accidents or injuries and may wish to get cancellation insurance as an extra option. We recommend the online insurance: Impact Multi Sports.
For paragliding courses you must have a FFVL licence and a medical certificate which is not more than 3 months old.
See more details in our T&Cs
Expert knowledge
of the region
Arc Aventures have been offering innovative outdoor sports in France since the 80s. In Les Arcs and Bourg St Maurice, they organise a range of activities that run locally during the summer and winter. The Arc Aventures team is waiting to welcome you at their offices in Arc 1800, located in the Tournavelles building (in the Villards village) and at the white-water base right on the banks of the Isère river in Bourg St Maurice.
With many activities to choose from, this is the moment explore the white-water rapids of the Isère river, the skies over Les Arcs and Bourg St Maurice and the forest in Arc 1800. We have everything you need for an amazing holiday: rafting, hydrospeed swimming, canyoning, a tree top adventure course and paragliding. All our activities are organised by a team of highly qualified professionals here to make sure you have a great holiday.
If you're ready to make the most of your trip to the mountains this summer, the adventure starts here.
Design and organisation of customised professional events (business committees, team building sessions and professional seminars) in Les Arcs.