1.5-hour private
Snowboard lesson

Christmas and New-years holidays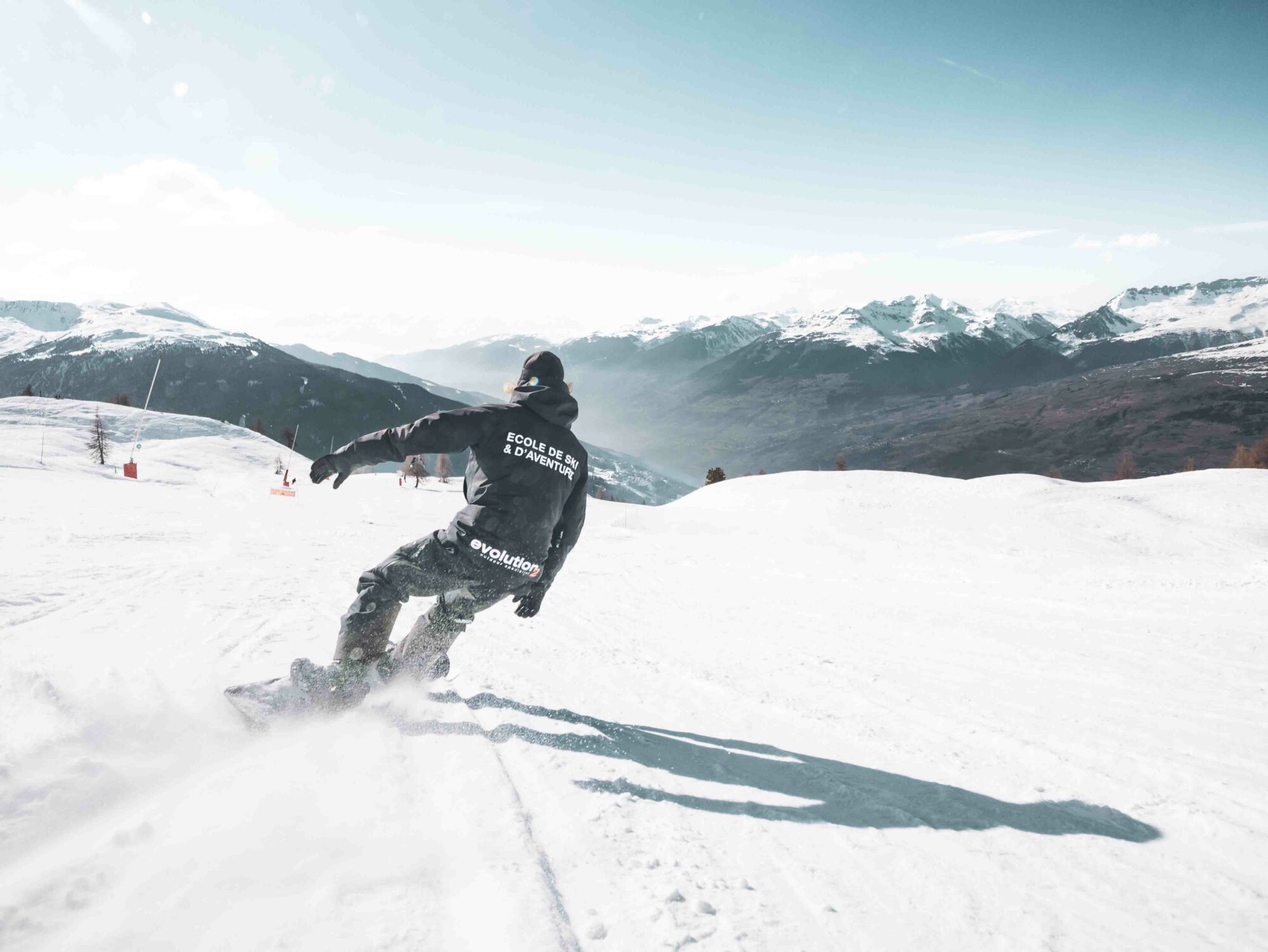 1.5-hour private Snowboard lesson
For a first time or not!
During Christmas and New-years holidays
Every day 12:30 to 14:00
Children and adults of all levels
From 1 to 4 people per instructor
Whether you want to try snowboarding for the first time or improve your 360°s, Nothing is better than a private lesson with an instructor who is only there for you. With personalised advice and lessons adapted to the level and age of the participant, improving is never easier than in a private lesson.
Children will be able to start as soon as they find snowboard equipment that fit them.
82,50€ per lesson for 1 person
92,50€ per lesson for 2 people
102,50€ per lesson for 3 people
112,50€ per lesson for 4 people
Prices include : instruction
Prices do not include: equipment hire, lift passes or insurance.
Personalised learning
Faster improvement
Experienced instructors
Adapted teaching environment
Arc Aventures by Evolution 2 Meeting point: At the bottom of Transarc cable cars in Arc 1800
Useful information
Whether you are coming in summer or winter, or you would like to make a booking or simply ask for some further information, don't hesitate to call us as soon as possible. This is especially important if you are coming during the French school holidays in the winter season or anytime in August.
We will be happy to give you all the information you need and take your booking (if bookings for that activity are already open).
Our sales service team are available most of the year with short periods where the office is closed in the spring and in September.
The right ski-outfit is important to keep you comfortable and safe out on the mountain. If you are staying on the slopes, you should have a top, jumper and ski jacket as well as water-resistant ski trousers and ski gloves.
If you are going off-piste or ski touring, you should have light layers you can remove while you climb to avoid over-heating and put back on as you ski down.
Helmets are compulsory for children and strongly recommended for adults and snowboarders. You may never fall but you cannot control how other people ski around you and collisions happen everyday.
Sun protection is very important as the air is thinner and it is very easy to burn or permanently damage your eyes: category 3/4 sunglasses or goggles are a must and sun cream for your face.
Snowboard padding and protection for the back and wrists are recommended but not compulsory.
Do I need a lift pass? If so, which one?
Probably! In most cases you will need one as there are no free ski slopes in Les Arcs and our lessons don't include a ski pass.
The basic pass you will need is the 'Classic' lift pass which covers all the slopes in Les Arcs and Peisey-Vallandry. Lift passes are free for under 5s, you can order them online or at the lift pass office and will need to present proof of age for the child to pick them up. Click here for more information
Children skiing: Children booked into the Panda, Yetison or Petit Yeti groups will not need a lift pass on their first day. The instructor will let you know when they will need one.
Adults who have never skied: Ask our sales team for details
Snowboarders (whatever the level): Always need the 'Classic' pass.
Do I need insurance for snow activities? If so, which one?
Yes! There is never insurance of any kind included with any of our lessons or activities.
We strongly recommend getting insurance for your trip: the 'Carré Neige' is the most well known for skiing holidays and they have many different types of cover including injuries, emergency rescue (including air-lifts to the hospital), missed lessons, equipment damage and cancellation cover.
You can book it online with your lift pass or at the lift pass offices in-resort.
A ski school
like no other
The Arc Aventures ski school in Arc 1800 is here to help you with anything you might need this winter, whether it be on the slopes or out in the mountain wilderness. We offer a wide range of different lessons and guided sessions in groups or individually. With our instructors you can learn to ski or snowboard, go off-piste and snowshoe around Les Arcs.
We have lessons that are adapted to the individual and work hard to help you achieve your sporting goals and make your winter holidays the best yet!
Design and organisation of customised professional events (business committees, team building sessions and professional seminars) in Les Arcs. Request an estimate.